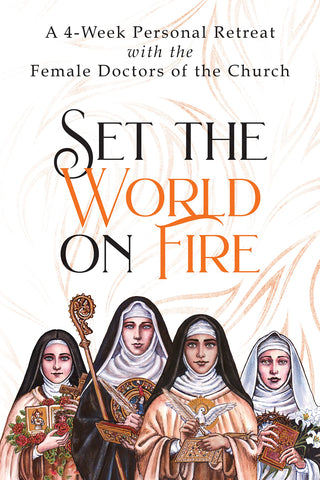 Set the World on Fire: A 4-Week Personal Retreat with the Female Doctors of the Church
---
This book will be available after October 20th, 2022, but you can pre-order now.
Only four women in the two thousand–year history of the Church—Thérèse of Lisieux, Teresa of Avila, Catherine of Siena, and Hildegard of Bingen—have the distinction of being named Doctors of the Church because of their impact on the faith.
In Set the World on Fire, bestselling author, retreat leader, and spiritual director Vinita Hampton Wright offers a four-week personal retreat that immerses you in the dramatic lives, historical eras, and groundbreaking ideas of these formidable saints and invites you to develop the grit, humility, pragmatism, hope, joy, and vision these women possessed.
Each week of your retreat begins with weekend reading and prayer to introduce the saint and the primary topic of the chapter, followed by five days of morning and evening prayer. Much of the text comes from the saint's own writings. Scripture, reflection questions, and suggestions for action are designed to help you engage personally with the saint and her wisdom for living your faith.
---
Share this Product
---
More from this collection